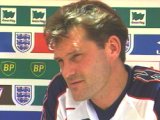 Glenn Hoddle
Career: Played for Tottenham, Monaco, Chelsea and Swindon
Managed at Swindon, Chelsea and England.
Born: October 27, 1957
Glenn's first job as Swindon manager was to avoid relegation at the end of the 1990/1991 season. They survived the drop and two seasons later they were promoted to the Premiership. Following this he moved clubs to manage Chelsea, since then Swindon Town fans refer to him as 'Judas'. He joined Chelsea in the month of June '93 and stayed there for 3 years with the notable signings of Ruud Gullit July 1995 and Dan Petrescu November 1995. It would ironic that his first major signing at the club would end up being his replacement as manager when he decided to leave Chelsea to take up the appointment as the coach for the England national team. After the debacle of the 'Turnip' years and the non event of World Cup '94 it was a pleasant change to have a man at the helm who could focus the team and turn them into the force that we know they can be. After World Cup '98 saw the manager make comments about disabled people which taken out of context or not should not of been said. It was decided that he should go and he was fired. Following a time in the football wilderness he has returned to lead Southampton for a year in the absence of Dave Jones who has a well publicised court case coming up. Since his arrival The Saints have seen their fortunes rise with premiership safety practically achieved. This time with 6 games to go and not leaving it until the last game of the season.